The Latest Updates on the Phillies
Welcome to MLB Opening Day. The MLB was originally set to kick off today and has since been suspended. You can still watch baseball though – starting with Bryce Harper's Grand Slam Game on MLB.tv
#OpeningDayAtHome https://t.co/NsPYaNjAsG

— The Liberty Line (@LibertyLinePHL) March 26, 2020
---
In Fact, the Phillies have a full slate of action today.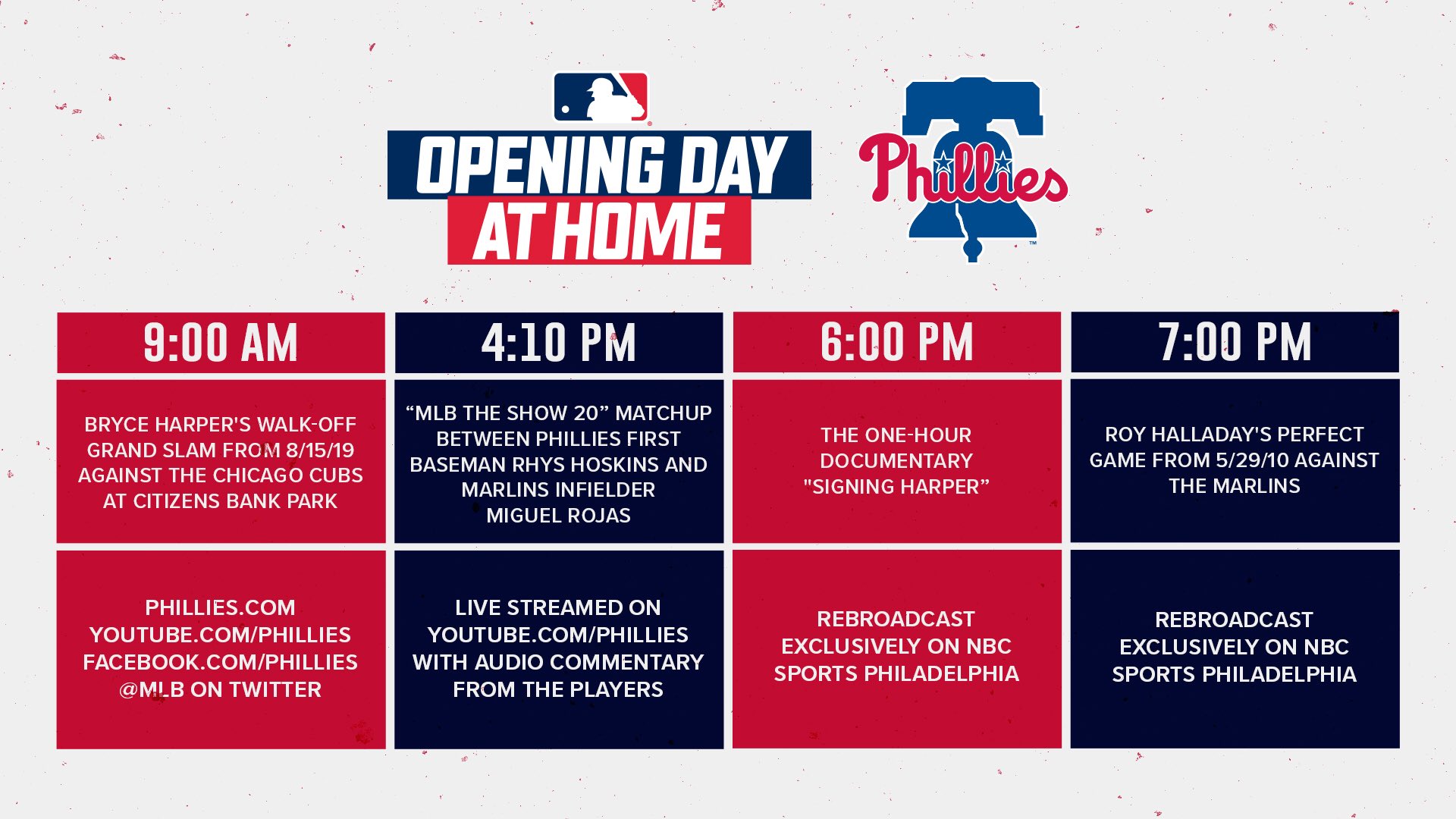 While you watch, here's all the latest buzz around the Phillies:
---
JT Realmuto Contract Extension
We all know the best catcher in baseball lost his arbitration hearing in early Spring Training but that doesn't mean Realmuto's agents aren't still seeking a long term deal with the Phillies. He'll most likely get one.
The MLB hiatus has temporarily halted the discussions, but reports are stating that Realmuto's "representatives are believed to be using Joe Mauer's catcher-record $23 million average annual salary as a baseline in extension talks." Other numbers floating around are St. Louis Cardinals first baseman Paul Goldschmidt's five-year, $130 million extension last year and that JT is seeking a bigger deal than the eight-year, $159 million one Buster Posey signed with the Giants in March 2013.
JT does deserve a deal and most likely he will get one before hitting free agency after the 2020 season. Realmuto is the best catcher in baseball. It's hard to argue 275/.328/.493 with 25 home runs and 83 RBI last year with the Phillies. You literally can't steal on him. He's an all-star and a silver slugger. The Phillies need to get a long term deal signed sooner than later.
---
Kris Bryant Trade?
The Phillies could definitely use another offensive weapon in the middle of the lineup. Even with the expectations of Rhys Hoskins returning to form, the Phillies should still be reaching out to the Cubs about potentially landing Bryant.
Bryant and Bryce compliment each other very well in the batting order. They're also buddies who grew up together in Las Vegas.
Bryce Harper at 27 years old is in his prime. Everyone knows that. Bryant at 28 years old is too. Imagine having these two in the line up, one batting lefty, the other righty, and putting up combined numbers such as 75 home runs, 200 RBIs, and 30 stolen bases.
It's actually more realistic than you would think. Combining their 2019 statistics, the two hit 66 home runs with Harper hitting 35 of them. Harper knocked in 114 runs, Bryant 77. Harper stole 15 bases in 18 attempts. Bryant was 4 for 4 on the base path.
You can stick Bryant in the outfield, or even at 3rd base. Personally, I think Alec Bohm is ready for the big show and Segura is just killing time at 3rd until he's ready, but Bryant would bring a whole new versatile / dynamic offense to this ball club.
---
Getting Healthy
Andrew McCutchen should be ready to go when baseball resumes. Which is great news for the Phillies. Cutch went out last year with a torn ACL and was expected to miss the start of the season. A healthy cutch can only mean good things for the Phillies lineup and dugout. He's a veteran leader and can be plugged anywhere in the batting order.
In 59 games and 292 plate appearances, he posted a .256/.378/.457 batting line with 10 homers, 12 doubles and a triple. Cutch's career-best 16.4 percent walk rate and sky-high OBP were badly missed on a team that posted a pedestrian .319 OBP on the whole.
Really, the delay will benefit the pitching staff the most. Right-handed veteran Tommy Hunter is on the med from a 2019 elbow injury. He barely played last year and signed a prove-it $850k one-year deal with the Phillies to come back this year. When pitching Hunter turned in 69 1/3 innings of 3.50 ERA ball with the Phillies.
Seranthony Dominguez suffered a setback in Spring Training with his recovery from last summer's elbow troubles. I think he needs surgery and I'm unsure why we keep delaying the inevitable. It's a poor diagnosis and there's a chance he misses the entire 2020 season. If non-surgical treatment does work, the delay will give him time to rehab.
David Robertson meanwhile, underwent Tommy John surgery last August. The Phillies hoped that the right-hander could return in the season's second half, and if the season doesn't even start until summer, he would be available for a greater portion of the year. The Phillies didn't really get to see a whole lot from Robinson last year but with the Yankees in 2018, Robertson went 8-3 with 5 saves and a 3.23 ERA.
---
More Time for Spencer Howard
ESPN Top 40 prospect and the ideal future to the Phillies pitching rotation is Spencer Howard. Klentak previously said about the need to make sure he has enough innings left in his arm to contribute down the stretch, and a shorter season would definitely reduce his workload. It's really just a matter of reducing workload. It will either come at the expense of his MLB aspirations or down in the minors.
Howard ripped through Class-A Advanced en route to a Double-A promotion and found similar success there in 2019 (2.35 ERA, 38-to-9 K/BB ratio in 30 2/3 innings). I'm pretty confident Howard will start in the minors but can't help but be excited about he and Aaron Nola atop the pitching rotation sometime in the near future.
---
The Last Time Spring Training was Cancelled, the Phillies Won the World Series.
Great article from the Philly Inquirer's Matt Breen
---
Hopefully baseball will be back sooner than later – it's 8:50 on a Thursday in March. MLB.tv is about to air the Bryce Harper Grand Slam Game.
I'm predicting we get to watch Bryce Harper hit at CBP in June.