Bryce Harper and Aaron Nola make Baseball Reference's "most popular player by state" map
A "Most Popular Player Page by State" graphic was released yesterday by Baseball Reference. It definitely had some no-brainer choices, but there were also a few surprises. Check it out below.
Most Popular Player Page by State: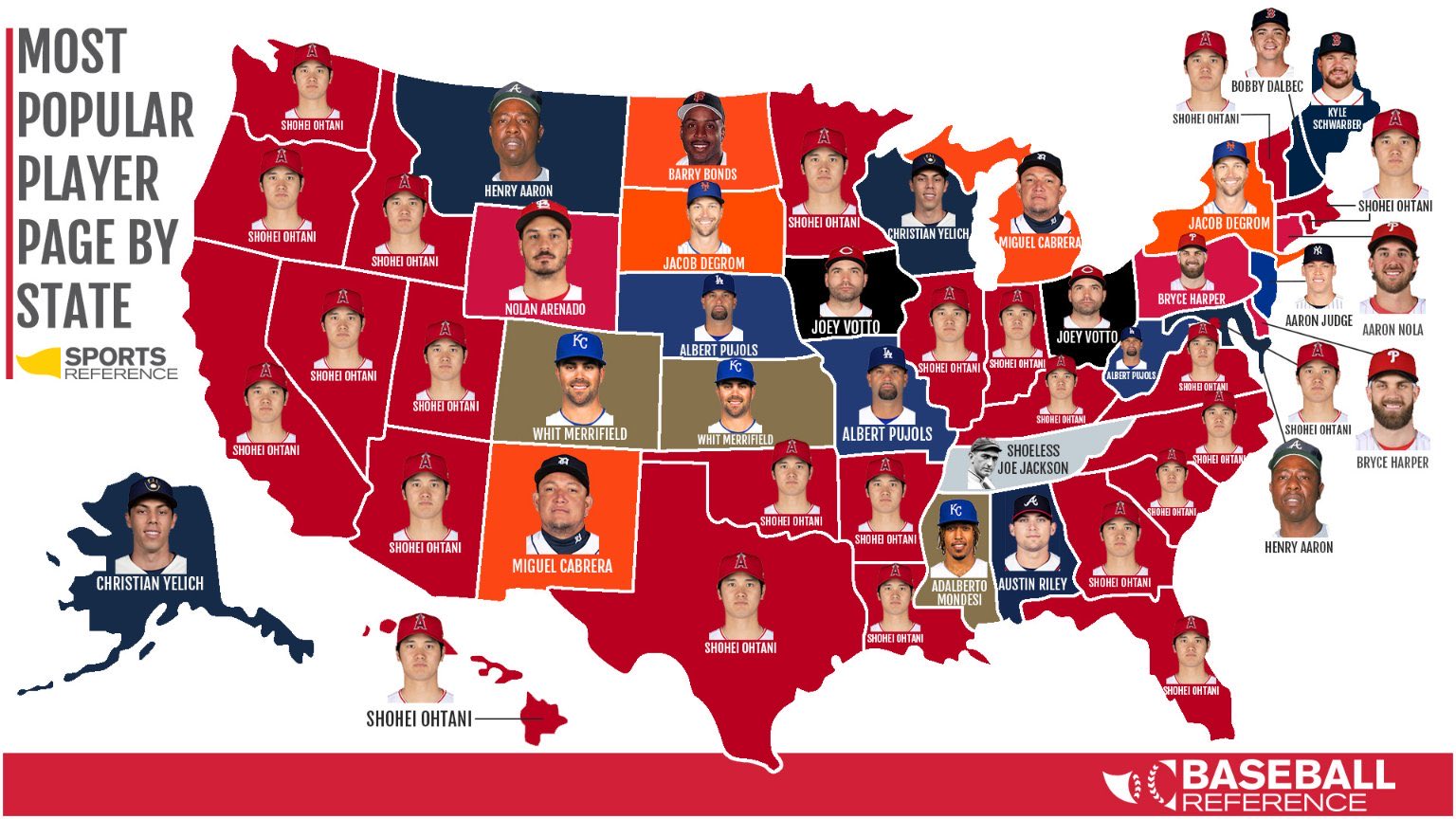 Of course, Bryce Harper owns the state of Pennsylvania. That makes total sense. The Phillies surprise came in Connecticut, with Aaron Nola being listed as the state's most popular player.
Bryce Harper
Casual baseball fans across the country couldn't name five players on the Pittsburgh Pirates, so Harper cementing himself as most popular in PA shouldn't surprise anyone. The now reigning National League MVP finished the season with 35 HRs and 84 RBIs, slashing a line of .309/.429/.615, with an OPS of 1.044.
After Harper's MVP season, I'm led to believe that he took home the state of Pennsylvania with ease. Harper was also voted the most popular player in the state of Delaware. The first state of Delaware is basically Pennsylvania unless you're south of Wilmington, then you might lean towards Baltimore, but I highly doubt many people choose to be an Orioles fan.
Aaron Nola
Full disclosure, I've never been to Connecticut. I do know, that they have no major league baseball team or any professional sports teams and if I had to guess, they would lean more towards Boston and the Red Sox in terms of their baseball fandom.
Their state animal is a sperm whale (shoutout Hartford Whalers) and they're known for hot lobster rolls and steamed cheeseburgers. I have no idea what a steamed cheeseburger is and I absolutely have zero clue on why Aaron Nola was the most popular player in Connecticut.
Nola was born in Baton Rouge, Louisiana, played college baseball at LSU, and has played for the Phillies throughout his whole major league career. I'm not even sure if Nola has ever been to Connecticut and I'm still struggling to find a reason why anyone would go there in general?
Anyways, pretty bizarre to see Nola pop up on the map anywhere north of Pennsylvania.
Shohei Ohtani
Shohei Ohtani was the most popular player on the baseball-reference map, being voted the favorite in 24 states. Ohtani turned into a nationwide star, after his incredible season on the mound and at the plate, taking home the AL MVP award in an unanimous vote.
The jury is still out on how many people find him popular or are just using Google to find out who he is and why the baseball world never shuts up about him. It's also possible that they are simply trying to figure out how to spell his name.
Aaron Judge
As a resident of New Jersey for 19 years, seeing Aaron Judge highlight my state of living was a disappointment. The Yankees haven't been to the World Series since 2009, and we're not going to talk about that today. I hate Aaron Judge, and am extremely disappointed seeing him highlight the beautiful Garden State.
Thanks South Jersey, way to show up for the Phillies and Bryce Harper. If anyone has answers on Aaron Nola and the state of Connecticut, please let me know.
Cheers to the weekend.
Mandatory Credit: Baseball-Reference