Marquis Flowers tweets picture from Super Bowl, now serves as the prime example of what's wrong with social media
For those of you who are unaware, today Saturday, December 13, 2021. We are years removed from the days of glory in the city of Philadelphia and an "important" Eagles game was just postponed until Tuesday after the Washington Football Team failed to control a mini-COVID outbreak within their organization.
Knowing that information above, it might come as a surprise to you that Marquis Flowers tweeted out this picture today of Corey Clement's touchdown catch in the Super Bowl.
Marquis Flowers is an idiot
It appears that Mr. Flowers is attempting (and failing miserably) to make a statement about the NFL and possibly officiating as a whole saying that Corey Clement was out of bounds when he brought in that beautiful pass from Nick Foles against the Patriots.
For starters, having anyone from the Patriots organization complain about rules, officiating, and alleged rigged games in the NFL is already hilarious, but lets back up for a moment and check out the video of the play that's currently in question.
On 3rd down and 6, Saint Nick Foles threw a strike to Clement with the Eagles currently leading 22-19. The pass was beautiful, as was every other thing Foles did on the football field that night. The catch was also beautiful and more importantly, clearly a touchdown.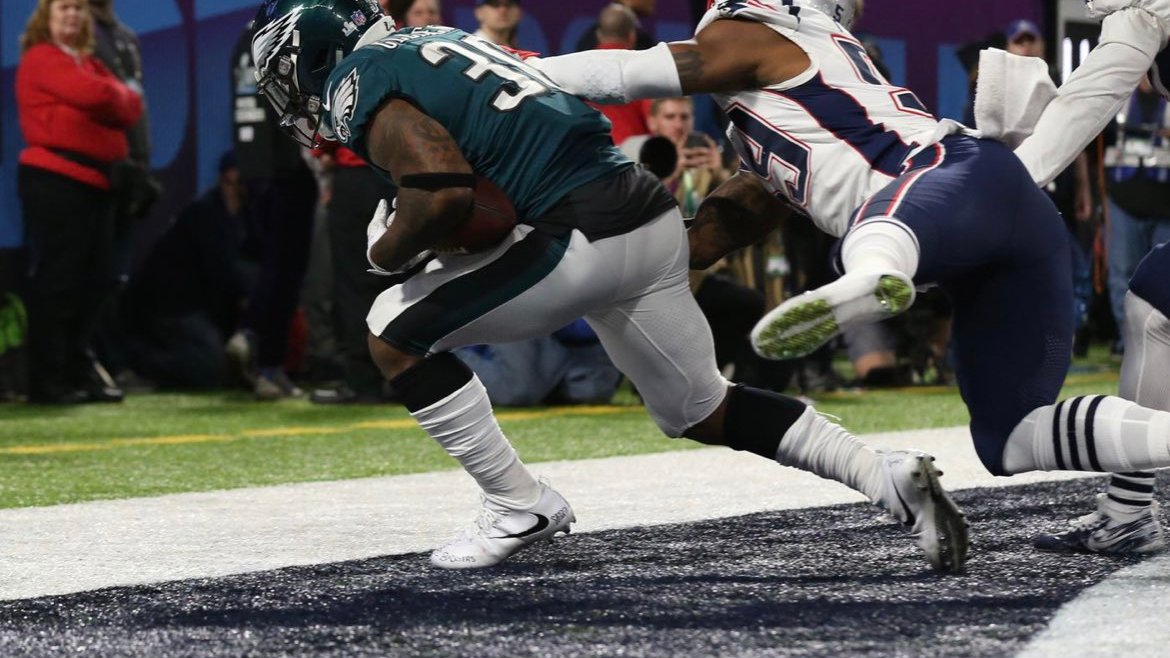 Marquis Flowers posted an image that was seconds late. Clement already had two feet down in the back of the end zone and the touchdown was confirmed. It's really that simple. Once I saw the tweet from Flowers, I literally just used Google to find a clear image of Clement scoring on the play.
In a matter of two seconds I was able to confirm the touchdown. Now, I do not know if Flowers was aware that the picture he tweeted was an inaccurate portrayal of whatever message he was trying to deliver. However, the entire situation should shed light on social media and serve as a prime example of what's wrong with any platform people log onto and share information.
With one tweet, Flowers paints a different story. Three thousand people and counting liked the tweet. Thousands more retweeted, quote tweeted, and replied agreeing with Flowers. As of right now, there's nothing from him correcting his tweet and saying that the picture tweeted was inaccurate.
In this situation, it's just football and as I stated before, we are years past the Eagles Super Bowl so honestly, who gives a shit. But the overall issue here is the fact that this type of shit happens on social media constantly. Whether its a major news organization, prominent figures in our country, politics, or the losers in Hollywood, everyone has been guilty of this time and time again.
This shit has got to stop. This situation is just a sports thing, next thing you know, the media will be telling you that the Omicron variant is something that we should fear and we should shutdown the entire world again because of it.
….Oh wait.