The 76ers are not getting a new stadium at Penn's Landing
In a vote today, the Delaware River Waterfront Corporation did not choose 76ers for development project at Penn's Landing. According to the commission, the Board of Directors voted unanimously to select the Durst Organization at a public meeting.
If you're wondering about the Durst family and where you heard that name before, it's probably either A) New York City or B) you watched The Jinx on HBO.
The proposed development will be located on Columbus Boulevard between Lombard and Market streets. From 6ABC:
"Over 8 years of construction, the building project will create a total one-time economic output of $3.9 billion in the Commonwealth of Pennsylvania and support over 28,000 construction and construction-related full-time equivalent jobs resulting in nearly $2 billion of new wages for workers. This activity will generate additional tax revenues of $62 million for the City (including at least $9 million for the School District) and $113 million for the Commonwealth," according to the release.
The DRWC said once the development is built and operating, it will create 1,850 permanent on- and off-site jobs. Riverfront officials said it will generate ongoing, annual tax revenues to Philadelphia of $35 million (including at least $9M for the School District) and to the state of $21 million.
The DRWC said it required every proposal to include a component to increase opportunity and wealth building in traditionally marginalized communities.
The Durst Organization committed to create a partnership with a minority-owned firm for up to 20 percent of the project, according to the DRWC.
"They've also pledged aggressive workforce diversity numbers, including making sure that a large percentage of professional services and construction contracts go to traditionally disadvantaged firms," the release said.
Here's what the Dursts are envisioning: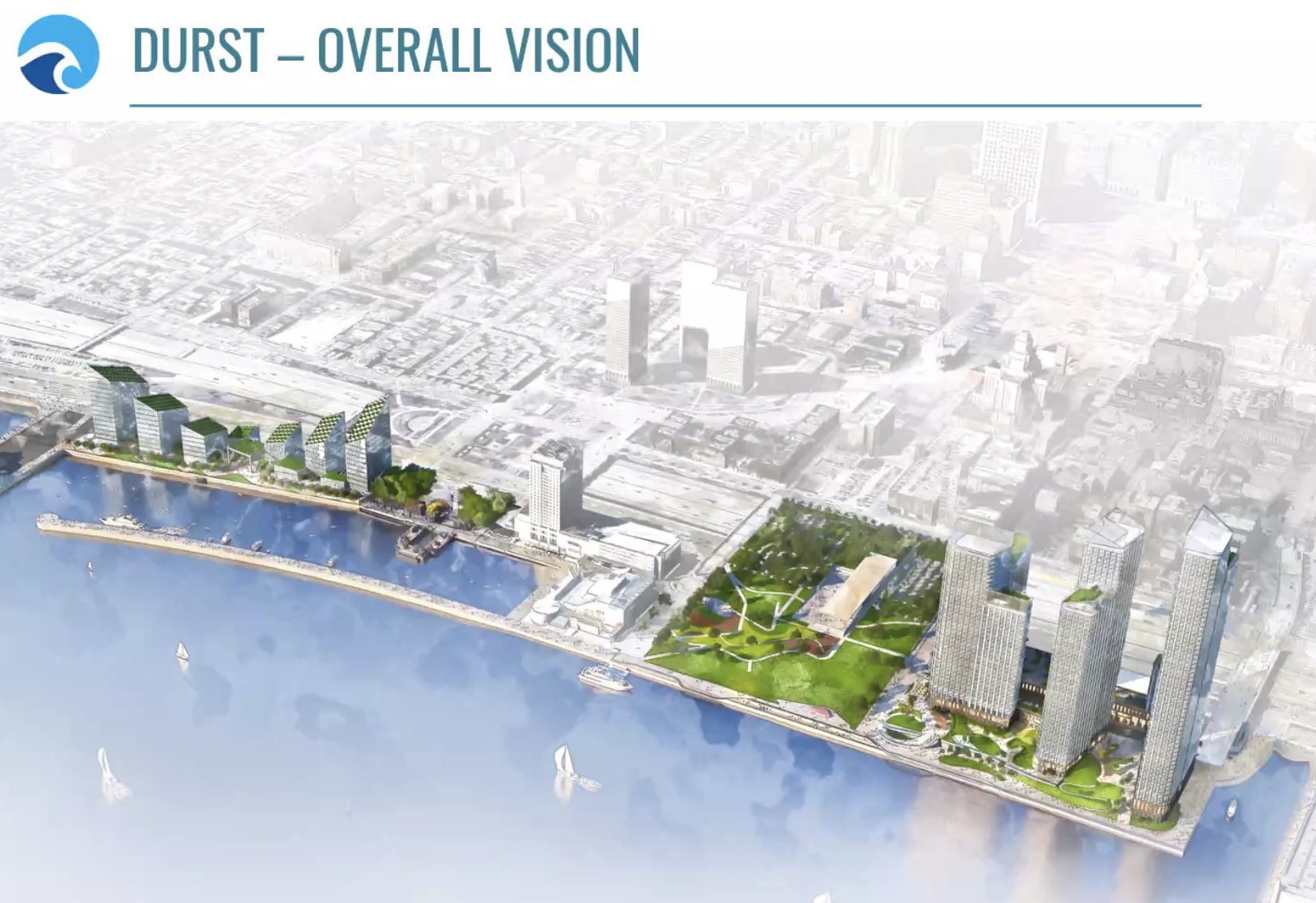 Honestly, I'm just happy that Philadelphia is going to start utilizing the beautiful waterfronts around the city. It's been a huge misstep in my opinion.
The Delaware Waterfront has a "Master Plan" for the area which you can read here.
As for the Sixers, who knows what move they will try to make next. Maybe across 95 and into the Navy Yard? Not sure if that's possible but count me in. As long as they don't go across the bridge into Camden, which is pretty lame to even think about, but honestly, I wouldn't be surprised.