D'Amelio family makes TikToks at 76ers game, plus Lil Baby and other special guests
The TikTok-famous D'Amelio family has been spotted at the Wells Fargo Center. It was initially speculated but confirmed by both sources on the ground and, most recently, a horrendous Tik Tok made by Dixie D'Amelio herself.
This is so upsetting in so many ways. First of all, that is a horrendous TikTok; Dixie didn't even lipsync the words correctly, which is literally the only prerequisite for making a TikTok in the first place.
I won't clown her too hard for being bad at basketball. Most of the staff here at The Liberty Line couldn't do much better. I know that personally, I'd look like a baby giraffe on ice skates driving to the basket on an NBA court.
At the same time, those girls really are awful. A friend of mine from college was familiar with the D'Amelio girls in high school, Dixie specifically, and the reviews are about what you'd expect.
It's so stupid to bring the D'Amelio family to the game in the general but especially at a time when COVID cases are ravaging the league. Those dusty jawns are the definition of biological vectors. Young adults are already spreading the virus at higher rates, but think about what the rich and famous ones can do.
However distressing the D'Amelio family's presence may be, there are still some rather special guests at the Farg tonight.
SI's Justin Grasso reported Elton Brand, Meek Mill, and Michael Ruben are hosting some kids that have been adversely affected by the criminal justice system. Definitely offsets whatever bad vibes may be coming from the app-famous harpies.
---
Plus, Lil Baby rocked up to the game with a custom Sixers jersey on. I'm sure he's from Atlanta, and they bounced us out of the playoffs last year, but the dude does spit bars. He could sleep with my ex-wife, and I'd still probably dap him up.
Granted, anybody could sleep with my ex-wife.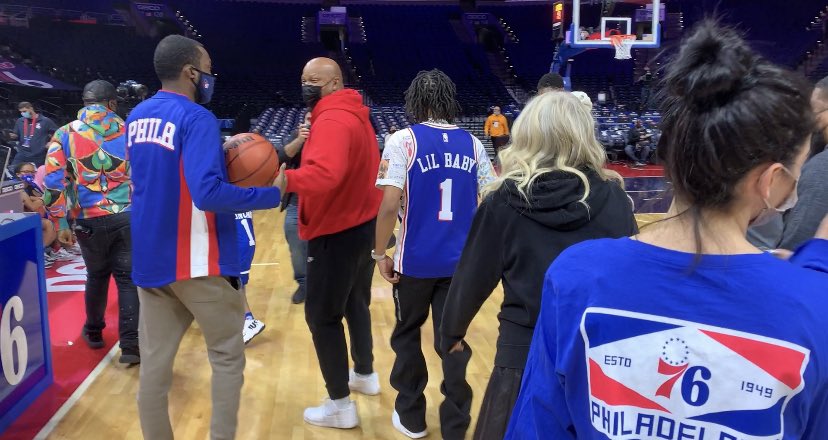 ---
Look, at the end of the day, it doesn't matter that the D'Amelio family brought its Connecticut stench to South Philly. What really matters is the Sixers get their shit together tonight. The squad is playing against a depleted Heat squad.
The D'Amelio sisters also need to clean it up. Sloppy lip syncing is not a good look. Luckily, the folks at TLL know what we're doing.
---
Listen to The Wolves of Broad Street
Sign up for Parx Sportsbook and deposit $25 using code WOLVES69
Mandatory Credit: TikTok @sixers