Philadelphia Inquirer writer suggests a Phillies name change, hastening the death of local journalism
In a move showcasing how much society has fallen since the death of local journalism, the Inquirer allowed a brain-dead writer to post one of the dumbest articles I've ever read. In it, Dave Caldwell, former Inquirer sports reporter and a product of a bygone era, decided to propose a name change for our beloved Philadelphia Phillies, offering several options. Unsurprisingly, each one was more unimaginative than the last.
What ensued can only be described as borderline criminal stupidity. Don't believe me? Take a look at these excerpts:
Drew's caption alone says it all. Also, when I, of all people, call your writing stupid, you know you've made a grave mistake. I've compared Kyle Pitts to Richard Nixon, invoked multiple articles of the UN Charter, and accused a sandwich shop owner of war crimes on his birthday. All over cheesesteaks. I'm as stupid as they come. Dave Caldwell, however, has taken the bar of dumbassery to a whole new level.
It's been to find a starting point for this blog because each paragraph is complete dogshit. Caldwell approaches this article as if reality does not exist in its current state. The cultural truths and societal norms that have been built up over centuries do not exist for this man.
The whole piece is in an infuriating tone. I don't know what's worse, that Caldwell felt to need to explain why the Phillies could not use "Rockies" as a nickname or that he thinks a single person would support the idea if it were possible. A team named after a movie character? That's so tacky. I'm going to be sick just thinking about it. We aren't the Anaheim Mighty Ducks. Though, that team had a reason to be named after a movie. That'll happen when you're a professional sports franchise owned by the allegedly benevolent overlords at The Mouse Company. 
Could you even imagine thinking that the Liberty Bell is just a 250-year-old cracked bell and isn't a good enough symbol of strength? Hey Dan, do you enjoy the freedom you're given to share you god awful opinions in one of America's oldest (1829) newspapers? Then you should probably shut the fuck up about the Liberty Bell. There's no stronger symbolism of freedom and America then that "cracked bell" that you mock in your poorly written think piece.
Look, I know the nickname Phillies is pretty stupid. It's such an early 1900s name for a baseball team it hurts. I can hear a man with a transatlantic accent over a crackly pre-war radio saying, "And the Yanks are set to welcome the Philadelphia Phillies this weekend. Should be an absolute crackerjack at the Polo Grounds." That aside, there's really no reason to change a team's name.
The other suggestions are just as dull and uninspiring, if not more. Caldwell first suggested the Phillies just go by "Philly," then as if his brain could be any more non-functioning, he wrote the dumbest thing he could have. The team could go by the "Philadelphia Jawn." Yeah, way to think outside the box, Dan.
---

---
The Jawn? Jesus of Nazareth – that is so bad, man. 
Am I overreacting? Maybe.
Just kidding, I most certainly am not. I hate you, Dave. You took an otherwise good day I was having and ruined it. It's okay to write hypothetical articles. It's totally cool to do some zany shit in the name of clicks. What's not okay is writing something like this and putting in absolutely zero effort. He literally had to write out why "Hoagies" wouldn't work as a team name and then commended the Brooklyn Nets for a "popular" black-and-white logo.
---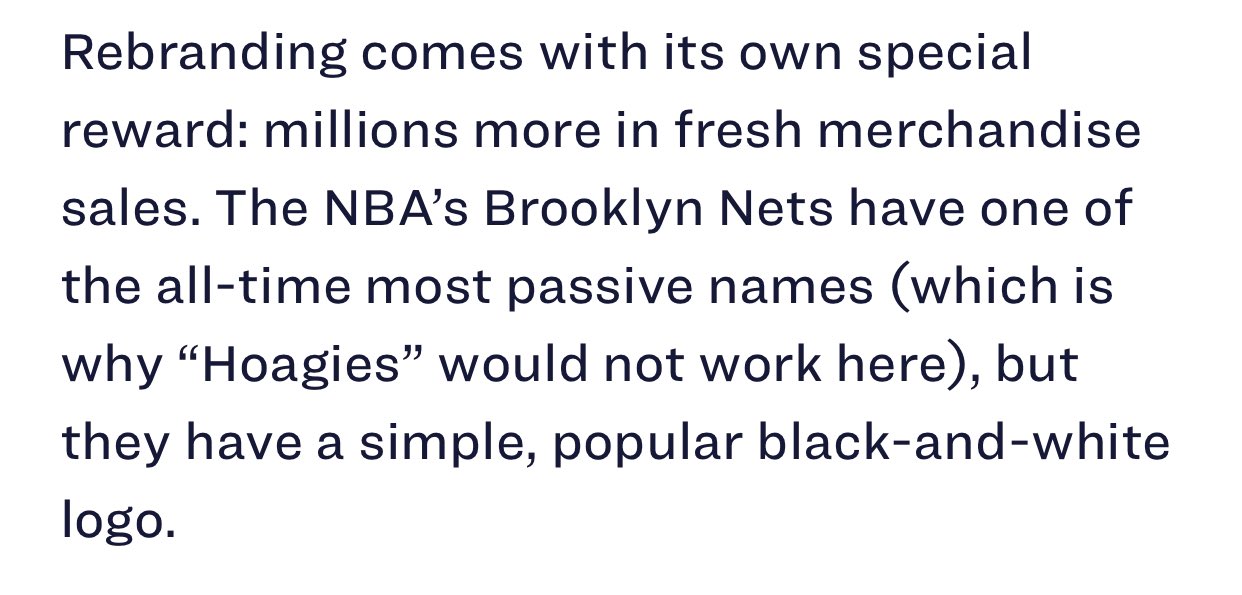 ---
My dude copy-pasted the name section of the Phillies Wikipedia page, thought of the three most iconic words in the Philly-area lexicon and shat out a few hundred words in the most basic way possibly. The slowly dying, catastrophically inbred media outlet that is the Inquirer delivered the killing blow, posting it on the internet for all to see.
I don't want to have to write this article. I'm sure Dave is a really nice guy. He's a fellow Temple guy and probably lives around the corner from me in Manayunk. That being said, this article is legitimately everything that is wrong with media today regardless of the scope of an outlet's coverage.
It's just a few hundred words of crap to incense stupid people like me. Maybe Dave used my beloved Phillies to play me like a fiddle. If so, well played. However, I don't think that's the case at all.
Honestly, this whole article reads like a text thread I would get from a buddy of mine, longtime Wolves of Broad St. listener, caller, and occasional hater Bob. He just says the dumbest shit to me sometimes, and I have zero ideas as to how someone could even think of something like that. I think he might have found a kindred spirit in Dave.
I don't have enough energy to keep ripping into Dave about this Phillies name change. Please, people, use this post as a guide. Don't let our local media outlets put out crap like this, even in the "Opinion" page (which I don't even think should exist in a "news"paper, but I digress). This is the dumbest thing I've seen since Philly.com became Inquirer.com in the first place. Enough already.
Unfortunately, we need to keep our eyes open folks. Don't see this stopping any time soon.
---
Listen to The Wolves of Broad Street
Mandatory Credit: Philadelphia Inquirer