FOX 29 anchor Jason Martinez's depraved bunless cheesesteak molested my eyeballs
As the headline says, FOX 29 anchor and newly minted enemy of the people Jason Martinez tweeted out a photo of a bunless cheesesteak. When will you sickos learn????? I feel like I write one of these weekly, and every time someone manages to wreck my faith in humanity. So without further ado, here it is:
Jason… what's up, buddy? Are you okay? It's just chopped steak, cheese, and onions piled up; I don't even know what I'm looking at.
I keep trying to write sentences, but they keep coming out as questions, so here are my biggest concerns:
How is somebody even supposed to eat that?
Did they seriously wrap it in paper and aluminum foil like an actual sandwich?
What fucked up individual put this together and went, "yup, that's a cheesesteak?"
How is Jason Martinez allowed to do the news anymore?
I just don't understand how anybody even considered this to be a viable option. I'm not saying it isn't food, but it's definitely not a meal – if that makes sense.
I want to be clear here, I can't believe such a front-facing member of the Philadelphia media chose to tweet such a thing. If Jason Martinez wants to eat a bunless cheesesteak, go ahead. However, he has to do it like Ginny Sack eats candy in "The Sopranos": on the floor, hidden from the ones she loves most, and full of shame.
Now, look, I'm sure Jason Martinez is a good guy. I'm sure he's just trying to cut carbs out and be a bit healthier. I get it. Hell, the guy is on TV daily. So I understand taking extra steps to look good.
That said, if you can't eat bread, just don't eat a cheesesteak, Jason. Or, at least wrap it in lettuce or something. That would at least make it into something resembling a sandwich. Whatever you do, definitely don't hashtag this abomination #PhillyCheesesteak.
Granted, I am merely a sandwich commentator; I am but one man in the vast expanse of sandwich-related existence. There is only so much I can do. Hell, I don't even know if this is a cheesesteak. Let's take one more look: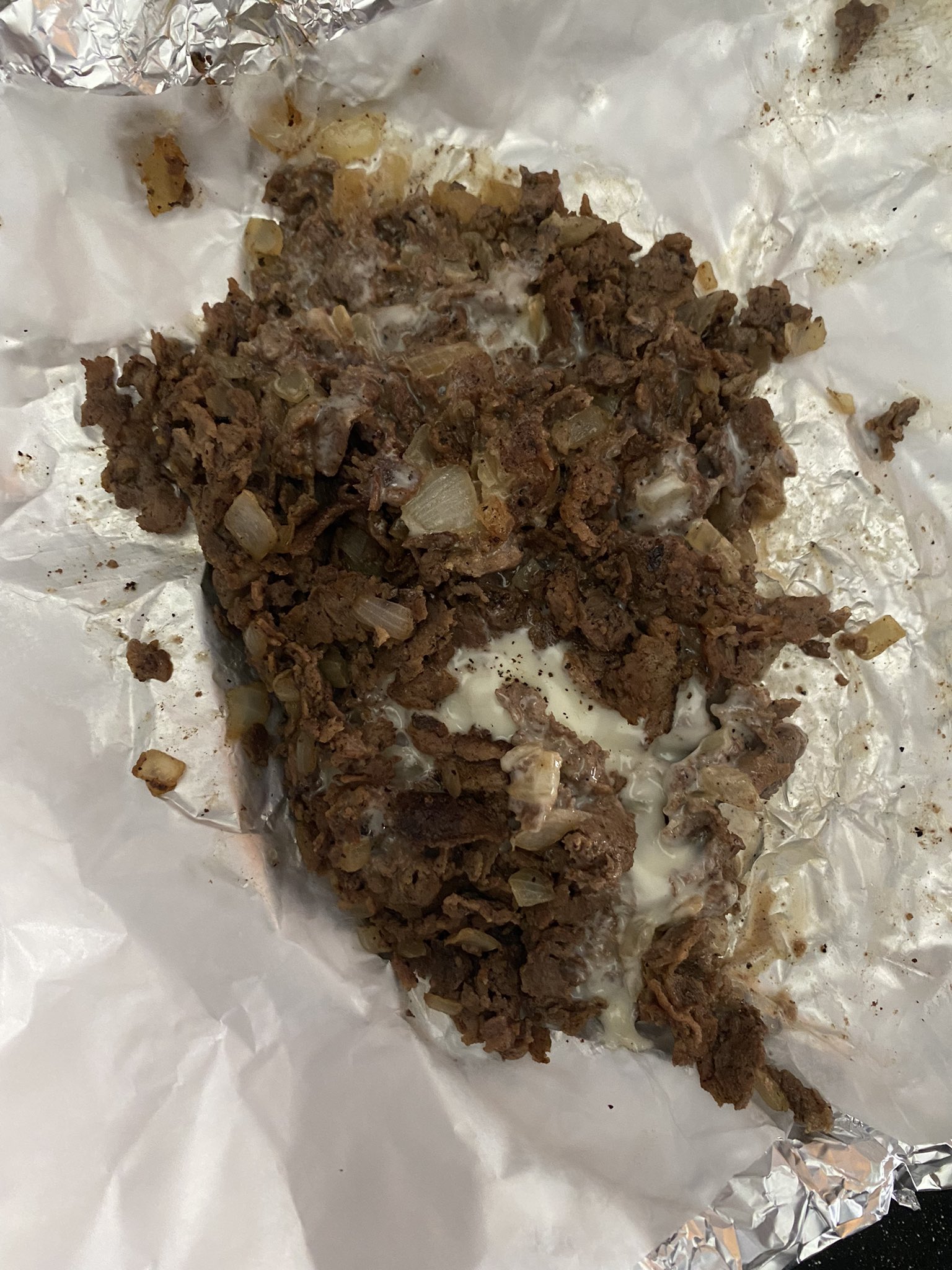 Well, is it a cheesesteak?
That, my friends, is for the bright and dedicated minds for the Philadelphia Hoagie Commission to decide. I cannot predict their ruling, nor if they even will rule as it is so disgusting. The PHC has reached out to Jason's camp with a simple question asking "why?". We will await further review. Regardless, their words will ring true. That I know for sure.
---
Listen to The Wolves of Broad Street