BeNFT: Ben Simmons Updates Instagram Profile Picture, could be a sign of unity with 76ers
We have a Ben Simmons Instagram profile picture update. Yeah, I know I sound like TMZ Drew right now but there's a reason why a simple update of a profile picture could point to a positive sign in the Ben Simmons, 76ers soap opera that we have all been living in over the past four months.
I will be totally honest with you, I have no idea what NFT's are. I stopped after cashing out $6,000 of DogeCoin over the summer and totally cut off the bizarre world of cryptocurrency and everything else involved with it because I couldn't stop staring at DogeCoin every night until 5am watching it rise and then fall, over and over again. BUT, if you haven't noticed, Tobias Harris and Daryl Morey both have Bored Ape Yacht Club NFT profile pictures. I threw pictures of each of them below.
The Philadelphia 76ers are in year one of a new partnership for their jersey sponsor with Crypto.com. When that announcement was made, a part of the deal was that the 76ers will launch their first NFTs alongside their City Uniforms for the upcoming season. The deal with the Sixers is reportedly worth over $10 million annually, one of the most expensive in the league. 76ers President of Basketball Operations Daryl Morey is a massive fan of NFTs, so it's likely he was a driving force behind this sponsor.
Back to Ben Simmons and his Instagram profile picture.
It has now been updated to an NFT, or what we are already calling a BeNFT.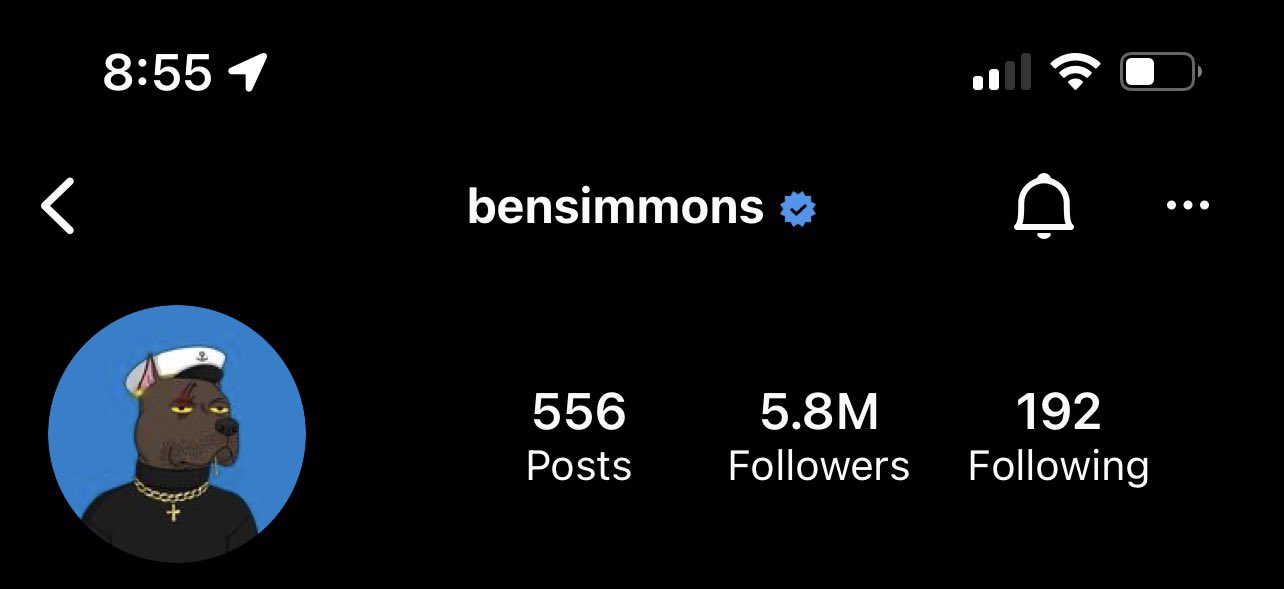 ---
UPDATE 10:51PM
Looks like this is the NFT that Ben…bought?
Created by GutterCatGang_The year is 2050. Humans are an interplanetary species and have all but abandoned the post-apocalyptic shatters of society on earth. Cats have taken over. One crime-ridden, nondescript inner city is inhabited by a group of cats collectively known as the Gutter Cats. No longer able to rely on the crutch of "man's best friend" or live in their nice suburban homes, the Gutter Dogs had to move to the inner city and reinvent themselves as "tough guys". Now, the Dogs spend their days flexing, fighting, and hustling in the streets to make ends meet, trying to figure out a way to make it to the top.
---
Check that last sentence. Sheesh.
As we all know, Ben Simmons spoke with the team last week and finally took a step in the right direction by taking responsibility for all of the things that went down over the offseason. From there, we saw a clear change in tone within the 76ers organization and in the media when talking about Ben Simmons. Right now, Simmons is practicing in Camden at the Sixers' practice facility and receiving treatment for his mental health and tight back.
It's clear that the 76ers are a better team with Ben Simmons on the court. The offense has no identity and zero pace and the perimeter defense has been horrendous without him. Is it possible that Ben Simmons getting in the NFT game is a relation to Daryl Morey, Tobias Harris, and the rest of the 76ers organization?
It very well could be. This is the first update we have seen from Simmons and it came in the form of a new profile picture on Instagram that just so happens to be an NFT that other teammates and members of the 76ers organization have also shown interest in, so while it may be a jump, I'm going to have to go with yes.