76ers partner Color Star wants to plug Ben Simmons into the Metaverse, finally reveal CEO
If you remotely pay attention to 76ers news, you've probably heard of Color Star by now. If you haven't, don't worry, there's been a lot of controversy surrounding the team all season, and partnering with a seemingly fake Chinese tech and entertainment company can get lost in the shuffle. Fortunately for you, we've got the latest updates surrounding the team's shadowy new partner.
Like many of my fellow Sixers fans, I have neither the time nor the inclination to keep up to date with Color Star's increasingly odd business practices. Fortunately, the folks over at Defector have been keeping tabs on the whole situation through a series of articles. Even better, they've compiled a comprehensive Twitter thread, which you can find below:
---
We have our series of articles here at The Liberty Line that synthesize that info and offer our thoughts on what is probably the weirdest storyline surrounding the team this season. You can check out our introductory piece from BeercanBrain here and Drew Smith's Christmastime update here.
There are a few new developments, the first being the identity of Color Star's allegedly real CEO, Lucas Capetian. Originally represented on LinkedIn by a digital avatar and claiming a degree from Harvard the school confirmed it doesn't even offer, Capetian has finally revealed himself.
Or has he?
There's something incredibly eery about the face of Color Star.
---
Yeah, I'm out. This guy straight up looks like one of those robots from 'Ex Machina.' I don't even have time for that. I am definitely not comfortable with a Chinese robot running a metaverse company.
Luckily, Drew Smith and I sat down on TLL News Network last night to discuss Capetian and Color Star. We really hit the nitty gritty around the 30 minute mark:
---
Despite just seeing the company's CEO's face for the first time, plenty of Sixers fans are more than aware of Color Star and just how odd its increasingly vague product line is.
For example, the company claims to be involved in metaverse entertainment, crypto, and NFTs, but there also seems to be some musical education component? Also, the company was selling ready-to-mix concrete less than two years ago, and now they're in the metaverse? My god, this is weird.
As a result, some fans have proposed to put Ben Simmons in the metaverse. To do what exactly? I don't know. But they're very excited about it.
And you know what, it seems Color Star is fully onboard too.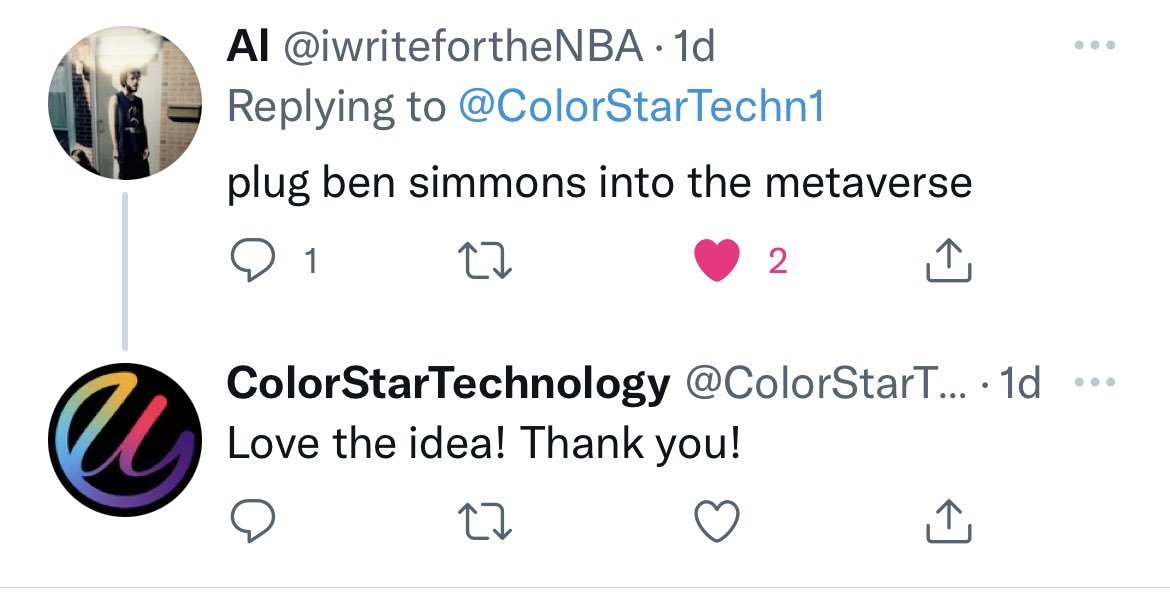 ---
Ben Simmons to the metaverse honestly sounds like a great idea. What would be even better is if we hooked him and Tobias Harris up to the metaverse and the machine trapped their souls in there like in 'Tron.' That would have to free up our cap space without penalty, right?
If that's not the organization's goal for this partnership, I'm still left wondering the same thing: Why?
Friend of The Liberty Line and international business expert, known only as Bob, did a deep dive into the company's financial records. Needless to say, he's not happy with the company or the Sixers.
I am also a bit concerned because I know Daryl Morey has previously gotten into trouble with the Chinese government for his comments on Hong Kong. This has me worried perhaps Capetian and Color Star are agents of the CCP out to get the Sixers for associating with Morey. Of course, none of this could happen without the consent of Adam Silver himself.
Maybe I'm just paranoid, though.
The following message was found on a company wide email obtained by Liberty Line sources operating out of our Chengdu office located in Sichuan province, but the transmission was cut before they could translate:
操你妈达里尔·莫雷
(for legal reasons, this one specific part is a joke).
---
Sign up for Parx Sportsbook and deposit $25 using code WOLVES69
Listen to The Wolves of Broad Street